Many people consider the server cabinet as a cabinet for IT equipment, but it's more than that. The server cabinet systematically solves the problems such as high-density heat dissipation in computer applications, management of numerous cables and equipment, large-capacity power distribution, and full compatibility with rack-mount devices of different manufacturers, so that the data center can operate in a highly stable environment. There are many types of cabinets available on the market. This article will focus on the 42U server cabinet that is widely used and popular among consumers.
What Is a 42U Server Cabinet and What Does It Do?
A 42U server cabinet usually has a height of 73.5 inches, but the width and depth of each manufacturer's 42U server cabinet will vary differently. It generally has a strong frame structure and perforated front and rear doors designed to provide ventilation for the equipment being housed. This is crucial to providing a safe environment for the equipment which generates a good deal of heat. A 42U server cabinet primarily used to install servers, UPS ES, monitors or similar equipment into standardized assemblies to make efficient use of space and other resources.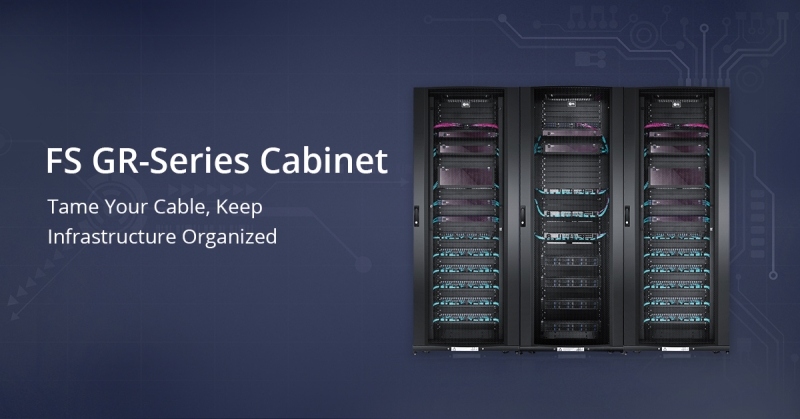 Factors to Consider Before Buying A 42U Server Cabinet
Buying a cabinet for your network is one of the most important parts of designing a data center. The main point is to optimize the physical space available in the environment and maximize efficiency. The following is a guide on factors to consider when choosing a 42U server cabinet.
Can the Server Cabinet Handle the Weight of Your Equipment?
Every server cabinet has a weight limit. We need to ensure that the weight capacity of the cabinet is greater than the total weight of the installed equipment. Due to the different panels and structures of the cabinet, the weight capacity is also different. In general, a typical 42U server cabinet has a weight capacity of approximately 500kg to 1500kg. Since the total weight of the equipment is often not light, it's necessary to choose a solid and strong cabinet. Insufficient weight capacity can cause safety problems and ultimately result in equipment damage.
What Are the Width and Depth of the 42U Server Cabinet?
Generally speaking, the 42U server cabinets have two different widths, one is 600mm for a basic type, the other is 800mm for an extended one. Compared to 600mm cabinet, 800mm cabinet is a lot easier to maintain large wire bundles and provide more space for cable management. As for the depth, there are many options ranging from 450mm to 1200mm. It's important to note that the dimensions (width and depth) of the 42U server cabinet you choose should meet your current and future needs and ensure that it's suitable for the operating environment.
What Are the Cable Management Options Available?
There are two types of server cabinets popular on the market, the bare server cabinet and the server cabinet with cable management tools. As the name implies, the bare server cabinet does not provide any cable management tools. However, the server cabinet with cable management tools provides tools such as fixed or sliding trays, adjustable shelves, adjustable mounting rails, and so on. These cable management tools not only help to achieve high-efficiency for cable deployment but also contribute to future maintenance and work efficiency.
How About Your Security Concerns?
The security of the server cabinet comes in several forms. At the first level, the server cabinet is just a frame and does not provide additional protection for the devices. At the second level, the four-sided panels and doors of the server cabinet provide a basic barrier to the equipment. At the third level, the server cabinet is equipped with tempered glass and key locks for added security and safer access, preventing others from invading. The level of security to choose depends on the actual needs of your network equipment. You may find that a fully secure server cabinet is more valuable than that of less secure alternatives.
What About the Shipping and After-Sales Service?
The shipping and after-sales service are also important factors to consider. The companies that provide good transportation can guarantee the safety of the goods and ensure fast delivery, which can help you save much more time and money. The installation guidance and services offered after the sale can bring great convenience to users for the installation and maintenance of the products. The intimate services provided along the process will make your shopping experience more enjoyable.
FS Provides GR-Series Server Cabinet to Meet Your Needs
FS provides two kinds of 42U server cabinet: GR600 and GR800. They all feature convenient top panel cable access openings, perforated doors and split rear door for efficient airflow, adjustable mounting equipment and removable side panels for faster deployment.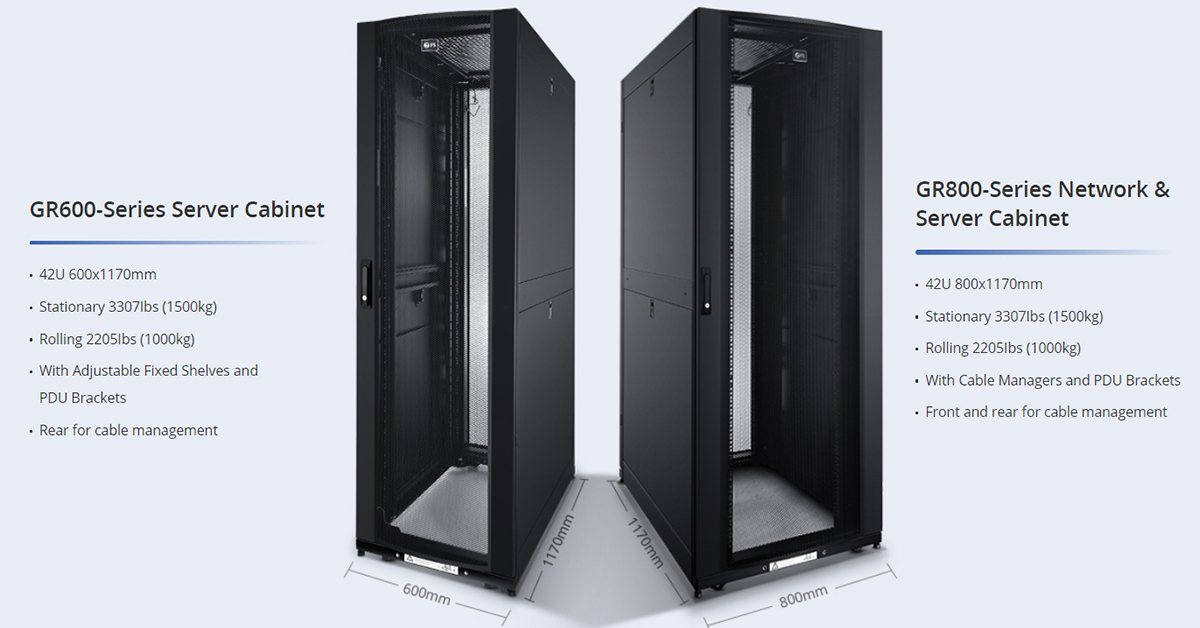 GR600-Series 42U Server Cabinet
42U GR600-Series server cabinet is the ideal solution for secure, high-density server applications in data centers. In addition to the above advantages, it's especially pre-loaded with full height dual PDU brackets and adjustable fixed shelves for quick installation. It supports computer server and data storage equipment by providing additional space at the rear for cable management and front-to-rear airflow solutions.
GR800-Series 42U Network & Server Cabinet
42U GR800-Series network & server cabinet is a multifunctional cabinet that supports a mix of computer, data storage, network, and security equipment, which offers application flexibility, allowing you to make it a cabinet for both servers and network devices. As a network cabinet, its maximum depth between rails is 700mm. As a server cabinet, its maximum depth between rails is 850mm. Besides that, it comes with pre-loaded full height dual PDU brackets and vertical cable managers for quick installation.
Conclusion
Choosing a suitable 42U server cabinet and configuring it to match your needs will ensure that your IT equipment operates efficiently and reliably, saving your organization from costly downtime and other unnecessary expenses. FS GR-Series cabinets are the ideal solution for secure, high-density server and networking applications in IT environments, which is packed with features designed to simplify rack equipment installations and rack equipment maintenance. If you're interested in a 42U server cabinet, please contact us via sales@almiria.co.ke